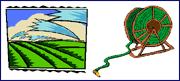 Homes with automatic sprinkler systems use more than twice as much water on average than homes that manually irrigate with a hose and sprinkler (Mayer, et. al. 1999). This result takes into consideration difference in landscape size, but doesn't consider landscape quality or landscaping materials (turf, Xeriscape, etc.). These results are shown in Figure 1.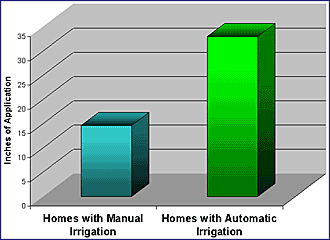 Figure 1
Although homes equipped with automatic sprinkler systems use substantially more water than their "hose dragging" counterparts, research shows that on average these homes do not use more water than the local climate conditions indicated was required for optimum growth of turf grass (Mayer, et. al 1999).
Evapotranspiration (or ET) is a measure of the amount of water required for optimum plant growth that is based on a number of factors including temperature and precipitation. When the water use of manual and automatic irrigators is compared against the local ET rate is can be seen that on average manual irrigators applied 39% of the theoretical ET requirement and automatic irrigators applied 47% of the ET requirement. These results are shown in Figure 2. This means that although homes with automatic sprinklers use more water, they are still irrigating quite efficiently on average.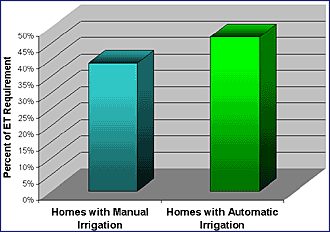 Figure 2