High efficiency clothes washers are now

offered by almost all the leading manufacturers and should be available wherever clothes washers are sold. For a list of stores in your area, try the ENERGY STAR store locator. All you need is a zip code!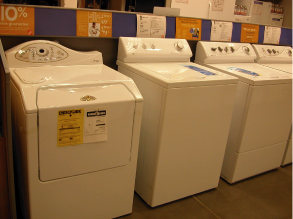 Photo source: Aquacraft, Inc., by permission.
A higher efficiency machine will use less water and also energy when less water is heated for each warm water wash cycle. The higher the efficiency of the machine the lower the Water Factor or abbreviated as "WF" which is a measure of water used per cycle per cubic foot of laundry. In other words, the lower the "WF" the lower the water consumption and the more efficient the machine.
Current listings of the most efficient machines is maintained and regularly updated by the Consortium for Energy Efficiency (CEE). The CEE web site posts a listing of high efficiency residential clothes washers. To find most current listing, click the "Residential Clothes Washers" then click on "Qualifying Products."