Some water providers, cities, and utility companies give away free faucet aerators as part of their conservation program.
For information about faucet aerator incentive programs in your area, contact your local water provider.
These Niagara Conservation products are an example of conservation kits distributed by local cities or water providers.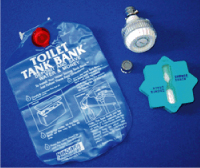 Photo source: City of Roanoke, VA Accessed September 5, 2003,
by permission.