Installing low-flow faucet aerators on your kitchen and bathroom sinks is easy, inexpensive, and can save water.
A recent study conducted in Seattle measured water use in single-family homes before and after installation of low-flow aerators (DeOreo, et. al. 2001). The aerators installed for this were inexpensive, but good quality products manufactured by New Resources Group. The results are shown below in Table 1. The new faucet aerators affected a 13% reduction in daily per capita faucet water use. Hot water faucet use was reduced by 10.6%.
Table 1: Faucet water use in homes in standard and conserving homes
| | | | |
| --- | --- | --- | --- |
| | Typical Faucet Flow Rates (gal. per minute) | Avg. Faucet Gallons per Person Per Day | Avg. Minutes of Faucet Use per Person Per Day |
| Non-conserving Home | 1.2 | 9.2 | 8.4 |
| Conserving home | 1.0 | 8.0 | 8.9 |
What happens when a family of four replaces their kitchen and bathroom faucet aerators? Figure 1 shows a projection of the difference in water use for the home with standard non-conserving aerators and low-flow models. The family would save more than 1,700 gallons of water per year by installing low-flow faucet aerators. Of these savings, 1,300 gallons would be from reductions in hot water use.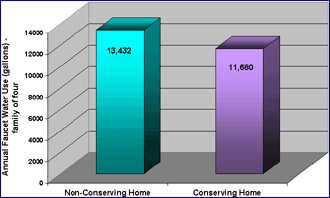 Figure 1: Annual faucet water usage (family of 4) with and without low-flow aerators