Some water providers, cities, and utility companies offer financial incentives for replacing old inefficient toilets. Typically they offer a rebate of between $25 and $100 per toilet. In some cases they may offer free toilet replacement.
For information about toilet rebates and incentive programs in your area, contact your local water provider.
Toilet drives, such as the Bellevue Toilet Roundup pictured below, help to motivate community residents to replace their old inefficient toilets.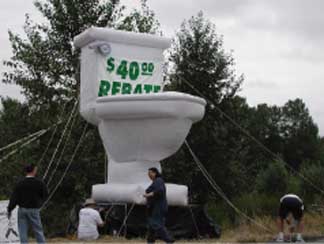 Photo Source: Woodinville Water District, Accessed September 24, 2003.