Trying to decide between satin and semi-gloss for the trim in your home can be a little challenging. If you find yourself in this situation, the best thing you can do is compare and contrast these two paints and choose the best one for you. They both have their pros and cons. So, satin or semi-gloss, which is the better choice?
Should I choose satin or semi-gloss?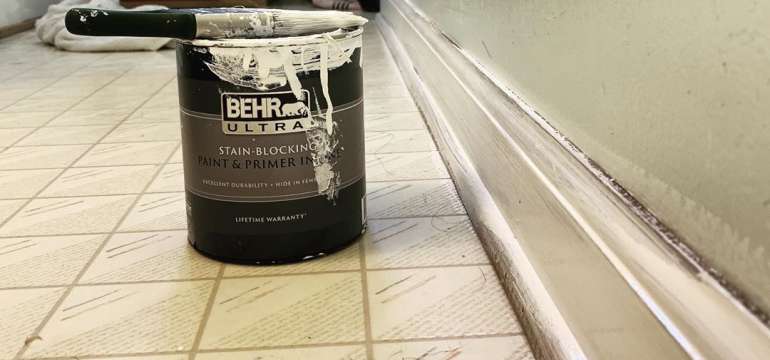 When painting wood trim, it's important to use the right paint. Both satin and semi-gloss are good choices, but which is the better choice? The best way to answer this question is to look at both their strengths and weaknesses and then choose the one that best suits your needs.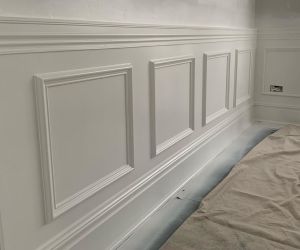 First, semi-gloss has a better sheen than satin. If you're unfamiliar with what sheen is, it's the glossiness of the paint, the overall shine. Although there are many paint finishes that deliver a good sheen, semi-gloss has a much better shine than satin. If you've ever used satin before, you'll definitely be able to tell the difference when you apply semi-gloss.
The light from the lamps in your home will really bounce off semi-gloss. With satin, it's really not this way. This is because satin absorbs the light more. This is also why if you have the same color of satin as you do with semi-gloss, the color of the satin appears to be lighter.
In addition to having a better shine, semi-gloss is also more durable and easier to clean than satin. In fact, the high gloss content a paint has, the easier it is to clean off fingerprints, filth, and smudges from the surface. This is why semi-gloss is the better choice for wood trim.
Wood trim tends to get quite dirty overtime, but with a simple wet wipe, you can remove the grime with no problem at all. Just remember, the slicker the surface, the easier it is to clean. Glossier paint will also be harder to damage. When you use semi-gloss, you won't have as many scratches and nicks.
Lastly, semi-gloss paint makes your trim and moldings stand out much more than satin does. This will add a lot to the overall appearance of your home. However, the negative side is that any kind of nick, scratch, and dent will really stand out, especially in the light. Now that you know the proper time to use semi-gloss paint when it the best time to use satin paint?
When should I use satin paint?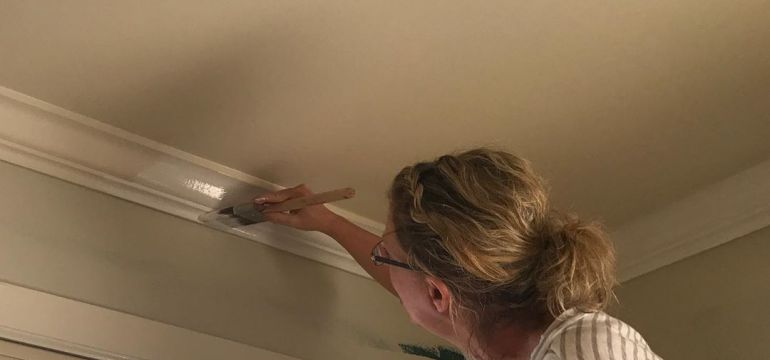 There are times when you might want to use satin paint for the trim in your home. For instance, if you don't want your trim to stand out, using a satin will dull the shine down by quite a bit.
As mentioned above, satin has a lower sheen count and will be less shiny once it's fully dry. This is very common with both contemporary and rustic designs. When used properly, it can really add to the overall look of the room.
Is satin or semi-gloss more popular for trim paint?
Although both satin and semi-gloss are both used for painting trim, semi-gloss is by far the more common choice among homeowners and interior decorators. The reason why semi-gloss is the more popular choice for wood trim is that it's more durable, it's easier to clean, and it has a stronger sheen than satin.
Satin is generally used for walls and ceilings, but when it's used for trim, it usually because usually the overall design has a contemporary or rustic look.
What is the best brand for trim paint?
If you're trying to decide what brand of trim paint you want to buy, the two most popular brands include Sherwin Williams and Benjamin Moore. Although these two companies produce comparable products, many professionals choose Sherwin Williams, because the paint is sold at the most convenient stores.
On the flip side, Benjamin Moore products have a reputation for being easier to spread, more durable, and requiring fewer coats than Sherwin Williams. In addition to this, Benjamin Moore is a little less expensive than Sherwin Williams. Listed below are a few examples from each brand.
Sherwin Williams
HGTV Home Sherwin Williams Showcase (semi-gloss paint)
Sherwin Williams Everlast Ultra White (semi-gloss paint)
Sherwin Williams Showcase Ultra White (satin paint)
HGTV Home Sherwin Williams Infinity White (satin paint)
Benjamin Moore
Regal Select Interior (semi-gloss paint)
Benjamin Moore Advance (semi-gloss paint)
Benjamin Moore Advanced (satin paint)
Benjamin Moore Aura Interior (satin paint)
These are just a few of the most popular choices from both companies. Before you choose, it's good to read customer reviews and have a painting professional answer any other questions you may have.

Latest posts by Mike Bailey
(see all)