There are several benefits to adding a deck to your home. Whether you're interested in hosting summer barbeques with your friends and family, gazing at the stars on a clear night, or even sunbathing during the day, one thing is for sure. Investing in a quality deck is a wise decision that will help you get the most out of your home.
Many of the decks built today are made out of wood. However, more and more people are deciding to build Azek or Trex decks over wood ones. Why? Wood decks require a lot more maintenance, can be damaged and stained much easier, are harder to clean, and typically won't withstand years of harsh weather conditions.
In fact, most homeowners will typically spend over $20,000 in a 20-year period maintaining their wood deck. In comparison, Azek and Trex decks will generally cost less than $10,000 to maintain for that same time period.
Now, before you try and decide between Azek or Trex, it's best to have a good understanding on what these two materials specifically are and both their benefits and downfalls. In addition to this, you should also take into account the purpose of the deck, your family's daily habits, the kind of weather in your geographical area, and your overall budget. By doing this, you can ensure you choose the right material for your personal needs.
What is Azek and Trex?
To start, Trex is designed to look like natural wood but is composed of 95% recycled material. This composed material includes things like ground up plastic, sawdust, and reclaimed wood. When compared to other kinds of composite material or even PVC, Trex has a much more natural look to it. Even the patterns that are illustrated on the boards make Trex look like real wood grain.
Azek on the other hand is crafted from a really tough, weather resistant cellular PVC material and is engineered to also look like high-quality wood. Although Azek doesn't capture the appearance of wood as well as Trex, it does come in a wide array of colors, patterns, and designs for easy personalization.
So, now that you understand what Trex and Azek is, it's time to look at both of their pros and cons, so you can decide which is a better choice for your deck. Here, we'll discuss several factors.
The cost of Trex
The cost of Trex is generally in the range of $40 to $70 for each 16 ft board. The price is ultimately determined by the quality of the material. There are three different kinds of Trex. First, the lowest grade is called Trex Select. This Trex material is the most affordable and has an outer shell that makes it quite resistant to mold and mildew.
Next in line is Trex Enhance. This Trex material has a higher price tag but is well worth the extra money. Trex Enhance features both stain resistant and fade resistant qualities and is also resistant to both mold and mildew to a certain point.
Lastly, Trex Transcend is the most expensive kind of Trex. Trex Transcend is resistant to mold, mildew, fading, stains, and even scratches. Now that's tough. Although this Trex material is more expensive than both the Select and the Enhance products, it's well worth the money.
The cost of Azek
Azek is quite a bit more expensive than Trex. In fact, Azek costs anywhere from $120 to $140 for a 16-foot board. This hike in price is due mainly to the fact that Azek has a reputation for being a more durable product than Trex. However, this isn't always the case. Some kinds of Azek products will actually scratch easier than Trex. Here is a video on performing scratch tests for both Azek and Trex.
The appearance of wood

Between Azek and Trex decking, Trex definitely resembles the look of wood much more than Azek. Now, that's not to say that Azek doesn't resemble wood at all, but if you're really interested in that natural look, then Trex is definitely the way to go. Azek will always be much more synthetic in appearance. Trex on the other hand simply captures the elegance and the style that's found in treated wood.
Resistance to fading
When it comes to fade resistance, Azek wins this competition. That doesn't mean that there isn't different kinds of Trex with fade resistant characteristics, but on average, Azek is less likely to fade overtime. This in return will save you more money in the future. Recoloring your deck can be expensive if you hire a professional company to complete the job for you.
Another piece of information worth mentioning is that Trex decks are designed to transform into a natural shade within the first six months. This transformation is partially due to weathering and will make the Trex look very similar to real treated wood.
Resistance to weather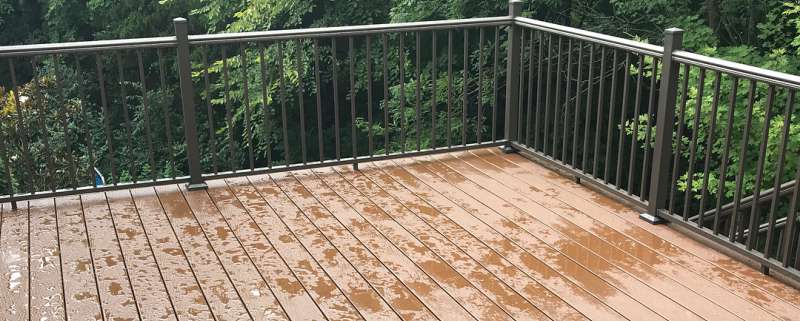 Although both Azek and high-quality Trex, Transend for example, are weather resistant, Azek tends to be more resistant to moisture. Azek also expands and contracts more than Trex making it less resistant to temperature changes. This expanding and contracting overtime can cause cracking and other issues within the boards.
If you live in geographical regions with hot summers and cold winters, you may want to choose Trex. On the flipside, if you live in a region with a lot of rain, then Azek may be the better choice.
Resistance to slipping
A slippery deck is extremely dangerous and can lead to a serious accident, especially if you have elderly members living in your home. If you live in a region that gets a lot of rain, or you're planning on building a hot tub into your deck, then Trex boards with a wood embossed surface is a much better choice than Azek boards. Azek decks tend to get quite slick in rainy weather and around hot tubs.
Resistance to staining and scratching
Azek has a reputation for being more resistant to scratches, dings, and dents. However, that's not always the case. In some situations, Trex can be more resistant to scratches as well. There have been several tests that proved this.
Whether you own an Azek or a Trex deck, you should always try to avoid scratching up the surface. Some of the things you can do to avoid scratching up your deck include making sure the legs on all your outdoor furniture have rubber feet, make sure nobody walks across the deck with sporting cleats, and try to avoid dropping sharp or heavy objects onto the deck.
Going Green
If you're trying to live a more environmental friendly life, then Trex is definitely a better way to go. Like mentioned earlier, Trex is made of 95% recycled material. This material includes plastic, saw dust, and reclaimed wood. When you invest in a Trex deck, you can feel good that you're helping the world become a cleaner place. Azek on the other hand is made of plastic and other chemicals that are molded together.
Maintenance

When it comes to maintaining both Azek and Trex decks, the same process is the same. First, you'll want to sweep and wash your deck with a mild soap and then rinse it thoroughly. You can also use a deck cleaner too. You should clean your Azek or Trex deck on a regular basis and by doing so, you'll effectively remove firth, grime, grease, and other dirt.
In addition to this, if you have rust stains on your Azek or Trex deck, you can use a household cleaner containing phosphoric acid to remove them. Again, rinse your deck off when you're finished.
It's important to note that you should never use cleaning products that have abrasives in them. These abrasives can dull the appearance of your deck. In the winter time, it's perfectly safe to use rock salt or calcium to remove the ice. Although these products will leave a white residue, this can be easily washed away.
Pressure washers are also great tools for cleaning your Azek or Trex deck. They're fast and effective. However, you must use the fan setting at all times, and you should never go over 1,500 psi at 8-10″ above deck surface. This will prevent you from damaging the surface.
Warranties
Most all of the Azek products on the market come with lifetime warranties that cover your basic wear and tear. On the other hand, Azek provides their customers a 30-year limited warranty for staining and fading whereas Trex offers their customers a 25-year warranty for residential homes and a 10-year warranty for commercial companies.
Conclusion
In conclusion, when comparing Azek vs Trex, there are benefits and downfalls to both materials. Azek is quite a bit more expensive due to its reputation of being really tough. However, Trex is also quite tough and is much more resistant to temperature change than Azek. On the other hand, Azek is more resistant to fading while Trex is much more environmental friendly, and the list goes on.
When deciding between Azek and Trek, some of the things that you'll want to consider include your budget, the kind of things you'll be doing with your deck, the average weather of your geographical area, the amount of sun your deck will get, and above all, your personal tastes.

Latest posts by Mike Bailey
(see all)