When you're thinking about deck materials, think beyond simply using lumber. Modern decking materials have come a long way since their origins, and today, they offer solutions that are actually far more durable than standard wooden boards.
In the world of wood composite decking materials, two names often stand out: Veranda and Trex. Explore Trex vs. Veranda decking, discover the key benefits of each brand, and decide which product may be right for your outdoor living space.
Veranda Decking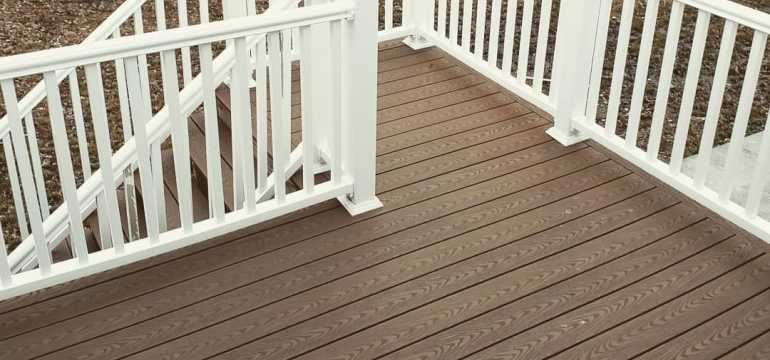 Veranda Armorguard Composite Decking is made of blended plastic and wood and several different finishes. You can purchase an embossed finish, an extra-durable finish, or a finish that closely resembles actual wood grain.
☆ HP Decking: This product features rich, natural-looking wood grain that comes in three different shades: Grey, Walnut, and Redwood.
☆ Vintage Decking: If you're into the rough, rustic, distressed look, this is the option for you. The distressed vintage decking is available in two colors, Harvest Brown and Antique Tin.
☆ Ultra-Light Decking: This smooth, classic deck material comes in two colors (Flagstone Grey and Chestnut Brown) and has a timeless, durable finish.
☆ Elite Decking: This product has a more pronounced texture finish. It comes in four different hues, including Brazilian Ash, Tropical Kauri Brown, Exotic Jarrahwood, and Panama Grey.
All Veranda deck boards come with a warranty against staining and fading, as well as a structural limited warranty of 25 years. It doesn't rot, splinter, warp, split, decay, or corrode as regular wood does. Termites or fungal decay won't affect it. It's extremely weather resistant.
The textured surfaces of Veranda decking are also very durable, although long-term hard use will gradually wear down the embossed or textured areas. You'll also need to be sure that you're using only the advised, approved cleaning products on the surface. Commercial pressure washers should not be used on a Veranda deck.
Trex Decking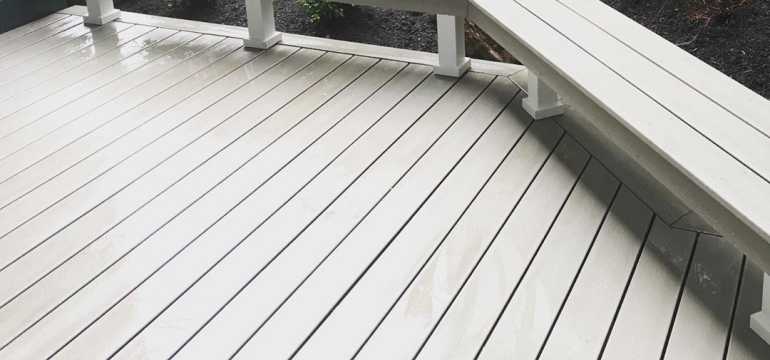 Trex decking has a tough, high-performance shell of composite that is resistant to stains, cracks, and rot. The Trex brand features several different product lines.
☆ Trex Transcend features ultra-beautiful looks in earth tones and tropical colors. It's the most high-end product the company offers.
☆ Trex Select provides five color options, including Pebble Grey, Madeira, Saddle, Winchester Grey, and Woodland Brown. It's high caliber quality for a gorgeous outdoor living surface.
☆ Trex Enhance Naturals comes in five multi-tonal hues, including Coastal Bluff, Foggy Wharf, Rocky Harbor, Toasted Sand, and Sunset Cove. Its durable design ensures low maintenance and affordable cost. The wood-grain texture is delightfully realistic.
☆ Trex Enhance Basics is the low-cost option, with three textures and grain colors. Options include Beach Dune, Clam Shell, and Saddle. Warm, authentic tones and enhanced mold and mildew resistance make these boards beautiful and easy to care for.
Trex offers their customers a 25-year limited warranty for staining and fading. Their warranties are quite similar including the restrictions that govern the warranties.
Trex vs. Veranda Deck: Strength
Trex decking has a tensile strength of 250 pounds per square inch. Veranda decking offers a tensile strength of 262 pounds per square inch, which is slightly better. Technically speaking, there's not much of a difference, and most experts don't consider that a wide enough margin to matter when it comes to selecting an option.
Veranda vs. Trex Decking: Price
At most stores and retail locations, as well as online, you'll find that Veranda decking is priced somewhat lower than Trex decking. Usually, it's about 20% lower in cost, which is a significant saving. However, if you can get Trex decking on sale or use a savings code, you can easily make up that difference.
Trex vs. Veranda Deck: Weather Resistance and Repairs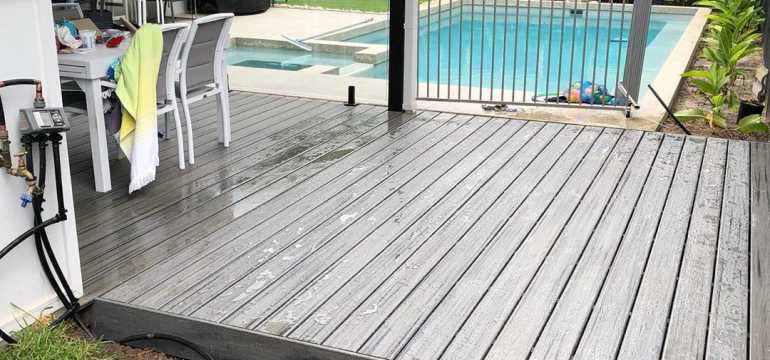 Veranda decking is more weather-resistant through and through. Without its composite coating (or if that coating becomes compromised), Trex decking is susceptible to moisture intrusion and mold.
Another point in favor of Veranda decking is the ease of repairs. Sometimes you can fix a damaged Veranda board, but if a Trex board is damaged, you will have to buy a new one and replace it.
Their warranties are both based on a progressive scale. The older the deck, the less of a percentage you'll receive. See the rates below:
1 to 10 years old: 100%
11 to 13 years old: 80%
14 to 16 years old: 60%
17 to 19 years old: 40%
20 to 22 years old: 20%
23 to 25 years old: 10%
Also, when it comes to fading, both warranties state that their composite decking will not fade more than 5 Delta-E (dE) units from either the weather or the light from the sun otherwise they will refund or replace the discolored boards.
Both Veranda and Trex claim that their products are resistant to mild and mildew. However, you should be aware that customers are responsible for cleaning their deck on a regular basis.
Caring for a composite deck is designed to be simple. You should clean it semi-annually with a composite deck cleaner and some water. For the high-performance products, all you need is some regular soap and warm water. If you use a pressure washer on the deck, make sure it's on the most gentle setting.
A hose will work fine to rinse away water and soap after cleaning. Due to its mineral content, hard water may leave behind deposits or spots, which you may be able to remove with white vinegar. However, if at all possible, avoid rinsing the deck with very hard water. Also, avoid allowing children to draw on the deck with chalk. Clean up food spills, especially oily ones, as quickly as possible.
The Decision
All in all, though both types of decking are excellent, Veranda decking has a few more points in the plus column. It's cheaper, holds more weight, is more durable, and can be repaired in some cases.
However, Trex decking tends to look a bit more high-end, so before you make a decision, request some samples of each brand's products so you can better determine which option is right for you.

Latest posts by Mike Bailey
(see all)