Whether you're building a new home or renovating an existing one, you're probably eager to get into the finished space and start entertaining friends. Maybe you even have a room set aside for that very purpose.
Do you have a space allotted for a home bar, where you and your friends can gather to drink, debrief, and decompress? If you plan to have a home bar, you'll probably need to have a die wall in place. Discover some important facts about die wall construction and options for your home bar.
What Is a Die Wall?
First, what is a die wall? According to construction terminology, a die wall is "flexible wall that allows other heavy fixtures to be built into it." It's usually installed in areas where users plan to have a home bar, where refrigerators, sinks, or other similar fixtures will be placed.
Essentially the die wall is a metal shell that enables all the features and components you need for a functional bar area. Its basic structure is typically concealed behind some type of paneling for a more attractive, finished look.
Types of Die Walls
A number of styles and types of die walls exist. You can purchase them from a manufacturer's website, or possibly from a local home improvement retail location. Before you make a decision, familiarize yourself with the look and installation requirements for the various models, including curved die walls, straight die walls, straight tapered die walls, and standard bar die walls.
Modular Bar Die Systems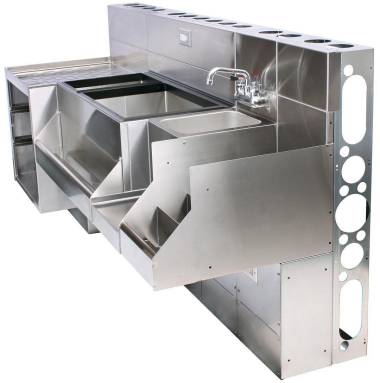 Some companies produce modular bar die systems, often manufactured from tough, easy-to-clean stainless steel. Thanks to the modular structure, you can customize your bar setup to include the areas you need.
Modular systems like these are designed to incorporate all the spaces you need for drain lines, plumbing, wiring, and more. With the sleek panels and the streamlined, tight-fitting design, modular bar systems from suppliers like Krowne or Advance Tabco are the ideal solution if you're looking for a flexible, convenient style of die wall construction.
Important Features for Bar Die Wall Construction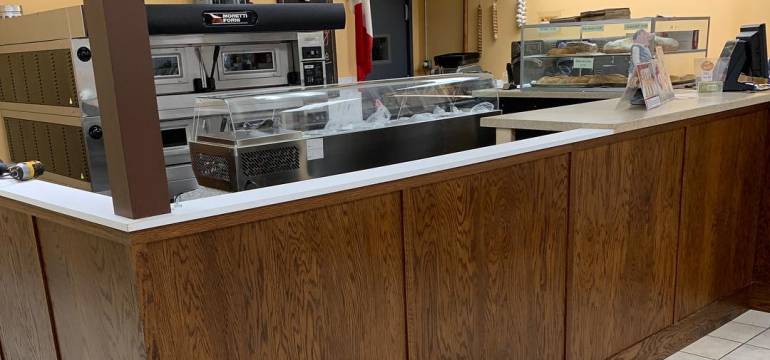 When you're shopping for a bar die wall and its related components, it's important to consider your lifestyle and the way in which you usually like to entertain friends. Thinking about your typical party style can help you determine which special features you're most interested in having for your bar area.
Do you want beer systems? Soda lines? What sort of nozzles would be ideal for you? If you're interested in having an ice bin, you can order one of those modules. Look for elements like coolers, frosters, glasswashers, or cocktail stations, depending on your entertainment preferences.
Bar Die Wall Construction and Installation
You'll be ordering the bar die wall as a whole or in modules, but once it arrives, you can save some money by installing it yourself. Arrange each section over its appropriate plumbing lines, electrical rough-ins, and other conduits, all of which should already be in place at this point if you included the sketch for the bar in your original design plans.
Using the screws and other hardware provided, attached the modular sections of the bar together loosely. Level the bar die using steel shims or composite shims, ensuring that you have a perfectly level and stable bar and work surface. Since you would typically install the bar die wall before the flooring goes in, don't worry if there are tiny cracks or gaps near where you've placed the shims. The tile or other flooring you install will cover up those areas with no problem.
Next, tighten up all the screws so everything is flush, firm, and secure. Caulk along the joints with clear sealant to prevent moisture from seeping in between the modular sections of the bar die wall.
Follow any other instructions for the setup of the die wall, and then finish laying in and attaching all the plumbing and electrical systems. After that, you can install the flooring. Ensure that the flooring lies flush against the bar die wall, and include another line of caulk for a watertight seal.
Finishing Touches for the Die Wall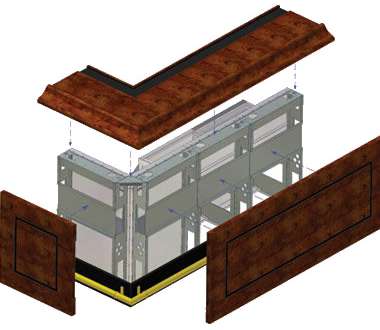 The back side of the die wall isn't intended to be attractive. If your die wall isn't set against the wall of the room, but serves as a floating bar area facing users, you'll need to install some paneling to give that front side a more pleasant aesthetic.
Many modular bar die systems come with all the appropriate paneling, custom fit to each section. However, you can purchase paneling if your kit doesn't include it.
Once you've completed the bar die wall construction and installation, and after you've installed all the panels, your bar area should look amazing. Now comes the fun part—stocking the bar with everything you need to have a great time with friends!

Latest posts by Thomas Luttrell
(see all)