Are you unhappy with your current kitchen faucet setup? Maybe you are renovating your bathroom and want a more decorative type faucet this time? Whatever the case, you certainly want to go with a faucet manufacturer that has a reputation for designing faucets that work great and perform well.
That's why many people choose Moen or Delta faucets. Delta or Moen faucet, which is better? You really can't go wrong with purchasing any faucet from Moen or Delta but let's take a closer look at them anyway.
Moen vs. Delta: Delta
Why is Delta such a popular brand to choose for those that want a new kitchen faucet? You might chalk it up to their experience. The company was founded in Indianapolis, Indiana, way back in 1954.
Since that time, they have become one of the biggest suppliers and innovators in the faucet industry. There are few people that shop for kitchen faucets that don't consider purchasing one of Delta's vast lines of kitchen faucets.
Advantages
Crafted from brass and/or other types of tough metal.
Very durable.
Patented leak-free technology. (InnoFlex PEX and Diamond Seal)
Most of their models have similar dimensions.
Typically easier to replace a cartridge than Moen faucets due to the hardware.
Disadvantages
Heavier than Moen faucets. This weight increase makes it tougher to hold up the faucet when installing it.
Supply lines are stiff, making them harder to work with.
Some people have talked about how their customer service could be a little more responsive to the problems their customers are having.
Delta has three major lines of kitchen faucet products to choose from.
Delta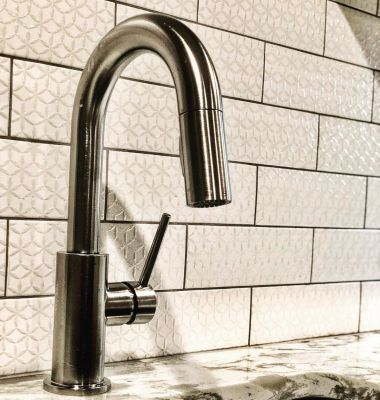 Of course, the most popular line of Delta faucets is their flagship line named after the company. Kitchen faucets in the Delta line generally fall in the moderate to higher price ranges. They have 63 different lines of kitchen faucets to choose from. These are classified in one of three different categories; traditional, contemporary, and transitional.
Peerless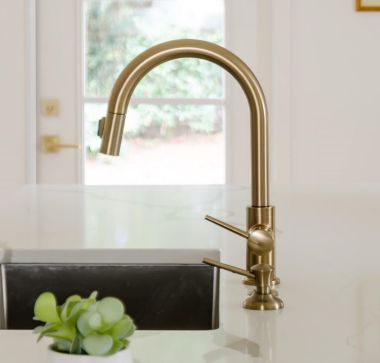 This is considered by many to be the budget-friendly line from Delta. There are not a lot of frills with these faucets, but they work well and look good.
Brizo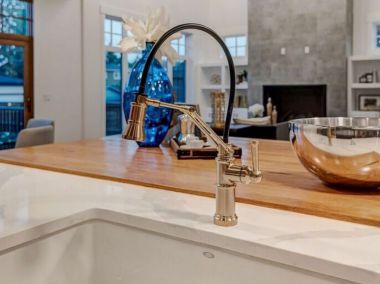 This is Delta's luxury line of faucets. They are innovative and elite products in every sense of the word. There are nine different lines to choose from, and they are on the pricier side, to say the least.
If you're looking for a touchless faucet, there are two products that we can recommend:
Delta Leland Touch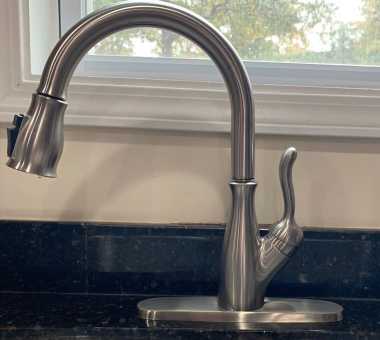 When you use this faucet, you can touch anywhere on the spout or handle to turn on the water. Delta really perfected touch technology when they crafted this faucet.
Another really cool feature is the LED screen in front. This screen tells the temperature of the water. This will help keep you from burning your hands. The only downfall is that this faucet runs on 6 AAA batteries. However, you only have to change them about every two years.
VoiceIQ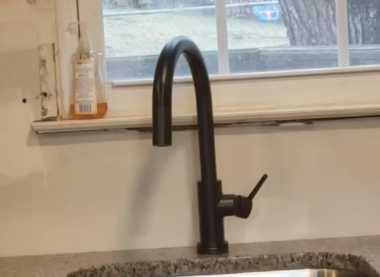 With this faucet, you can hook up Alexa technology to it and turn the water on by simply using your voice. In fact, you can tell this faucet to dispense exactly one cup of water. Simply hold your measuring cup under the nozzle, say your command, and the faucet will fill the cup and automatically turn off. It's that convenient.
The only downside is that the quality of your internet connection will ultimately affect the faucet's performance. If your connection is poor, the technology might not always work.
Moen vs. Delta: Moen
In terms of longevity, Moen is not far behind Delta. They have been around since 1956. They are headquartered out of North Olmsted, Ohio. This faucet company is another innovator in the faucet industry, especially when it comes to high-end and smart kitchen faucets. They are a recognized leader in the faucet industry that has a reputation for quality.
Advantages
Reliable and simple to use.
Multiple styles and sizes to choose from.
Supply lines can handle 1000 PSI with no problems at all.
Supply lines are flexible, which makes working with them much easier than Delta supply lines.
Disadvantages
Made from plastic and metal in their connections and other parts.
Because Moen makes a diverse range of faucets with different dimensions, installing your new Moen faucet may require some customization.
Some touchless models use fly-by-wire design. When it fails, you need to wait for the new part to arrive. However, you can bypass a Delta touchless faucet and make it conventional.
Moen does not break their products into different product categories such as Delta does. Although they have some affordable models of kitchen faucets, they do not have many budget-friendly options. Part of that is because of the innovation that goes into these companies kitchen faucet products.
Here are some innovative kitchen faucet features that Moen is well-known for:
MotionSense™ Touchless Faucets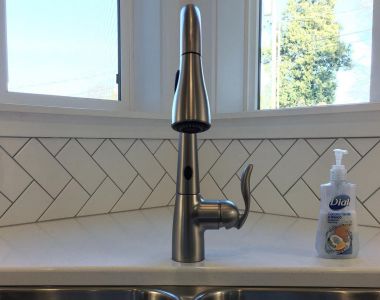 There is no simpler faucet to turn on than those Moen faucets with motion-sensing technology. This fly-by-wire design allows you to simply wave your hand near the sensor to get the water to run. However, in this design, there is no valve in the handle. If your faucet fails, you have to wait until the parts arrive from the manufacturer.
Power Clean™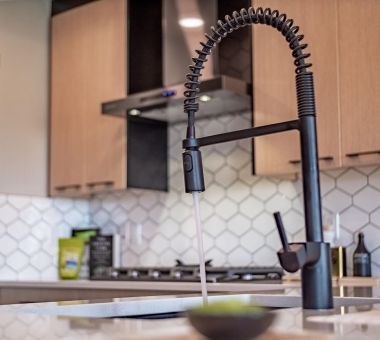 Want a boost in cleaning your dishes? Moen faucets with this capability have the ability to concentrate their spray without significant splashing.
Reflex™ Pulldown Kitchen Faucets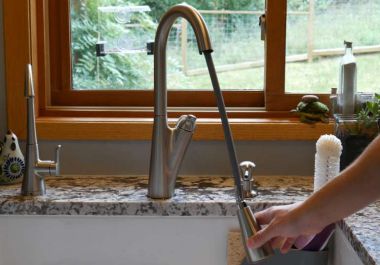 Pull out faucets are all of the rage these days and Moen decide to take this technology one step further. Their products with this feature pull out for greater working range, but then they uniquely recoil themselves back into the faucet spout until you need to pull them out again.
Here are two products that we can recommend:
Arbor One-Handle Pulldown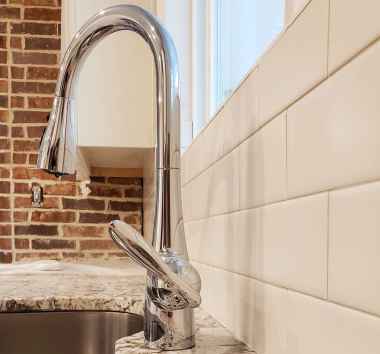 This is a really nice faucet for the money. This model comes with either an automatic sensor (MotionSense technology) or no automatic sensor.
The handle on this Moen faucet is easy to use. You can pull it out to turn the water on, push it up for hot, and push it down for cold. The spout also has easy-to-use buttons on it, which changes the flow style. This gives you a variety of options.
Adler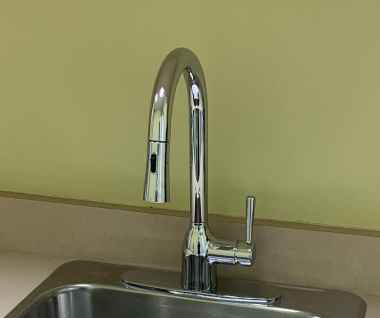 The Adler Collection by Moen offers some budget-friendly options. These faucets are definitely pleasing to the eyes, but just like with the Delta Peerless faucet, they're pretty basic. For instance, they typically don't come with any smart technology features. Nevertheless, they're definitely quality faucets.
A Few Final Thoughts on Moen vs. Delta
As we mentioned before, these are both very good faucet brands. They each feature some basic types of faucets and some very high-end faucets with a lot of incredible features. Delta has its plain label faucet products and designer series faucets, while Moen specializes in moderate to high-cost faucet products mostly. They both offer a huge selection of colors, styles, valve options, and faucet heights too.
When it comes to Delta vs. Moen faucet quality, we feel Delta offer the highest quality of the two brands. However, Delta provides their customers a lifetime limited warranty and 5-year limited warranty for the electronic parts and batteries whereas Moen offers their customers lifetime limited warranty.
Also, some people find it hard to get Delta faucet replacement parts because they have several outsource providers, but this will depend on where you live.
Delta definitely has more budget-friendly options to offer than Moen does. Moen tends to add more high-end features to their faucets, such as included soap dispensers, water filtration, and touchless operation.
Lastly, when comparing Delta vs. Moen kitchen faucets, you must realize that both brands can be purchased in a wide variety of ways. We recommend you to go to a plumbing supply house where you can find different quality products.

Latest posts by Josh Hurd
(see all)