A wide variety of water conserving showerheads are available for purchase with prices starting at $3. A typical handheld massaging showerhead will cost around $25. Designer models cost from $50 to $400 depending on the model and materials used.
Federal law currently mandates that all showerheads manufactured in the U.S. must use water at or below a flow rate of 2.5 gallons per minute (gpm). These 2.5 gpm showerheads are often referred to as low-flow or LF showerheads. This law was put into place in 1992 in an effort to improve water efficiency nationwide and coordinate various state standards. Previously, some showerheads used 5 gallons per minute or more.
Adjustable spray, sprinkle, and massage
Even using 2.5 gpm or less, today's showerheads offer a wide variety of spray patterns and options. If pulsing spray or soft rain is what you enjoy in the shower, there is sure to be a showerhead to meet your needs.
For maximum water conservation, select a showerhead that uses less than 2.5 gallons per minute. A number of manufacturers offer showerheads that restrict flow to less than 2 gpm.
Where to Get Showerhead
Low-flow showerheads can be purchased at hardware stores, department stores, plumbing supply stores, home design centers, or can be ordered from a variety of on-line stores.
Check to see if your local water utility offers free showerheads as part of its water conservation effort.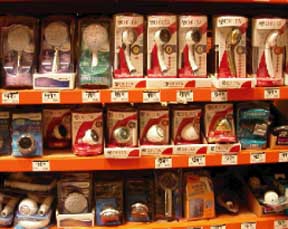 Most retail stores offer a wide variety of shower products.
Photo source: Aquacraft, Inc
Showerhead Incentives or Rebates
Some water providers, cities, and utility companies give away free showerheads as part of their conservation program.
For information about showerhead incentive programs in your area, contact your local water provider.

Latest posts by Kevin L. Sharp
(see all)