Where can you store all of your extra lawn equipment, bicycles, boats, and other odds and ends? Most people do not have room for these items in their house, and a shed may already be packed to the brim. A garage is a convenient place that can house your cars and offer additional storage space for your home. The question is, what is the cheapest way to build a garage?
There are two main methods to build a sturdy garage that will last you. Let's take a closer look at how pole garages vary from the traditional stick-built approach.
Pole Garages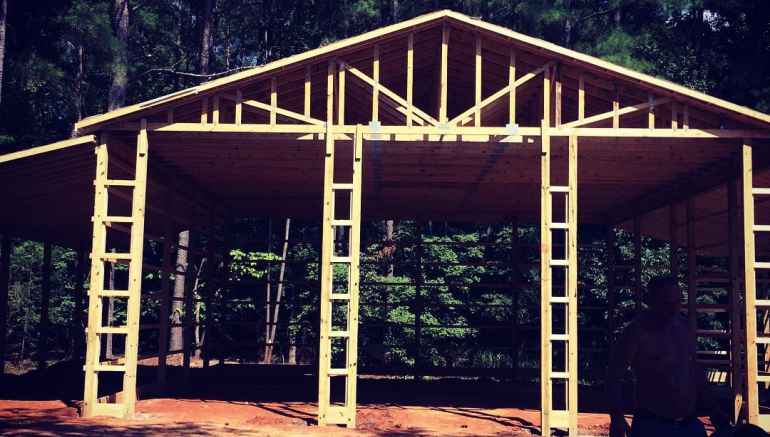 What is the cheapest way to build a garage? One of the simplest and most cost-effective solutions for building a garage is to erect a pole-style building. These are sometimes referred to as post-frame construction or pole barns, and many consider them to be superior to traditional stick-built garages. If you want to learn how to build a cheap garage, this is one area that you will definitely want to investigate further.
A pole building is an area where laminated wood posts are used to frame out the garage. They form the bare-bones structure and also support the load that the garage will have to carry when it snows or when there are strong winds. Metal panels typically hold the whole structure together though you may see some people use alternative roofing so that it has shingles that match their home.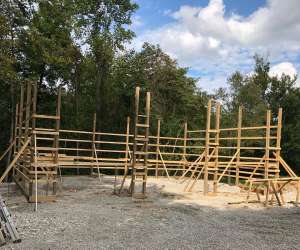 There are a lot of benefits of going with a pole garage. The first is that it has low to no foundation cost. This is the first real investment that most people are required to make in their garage, accounting for roughly ten to fifteen percent of the overall cost. Pole buildings require that the posts be sunk deep into the ground for stability, but they do not require a concrete slab. However, you may choose to install one anyway.
Many people also love post-frame construction because it goes much faster than stick-built garages. There are fewer elements involved in the construction process, which allows you to move along quickly without as much room for error.
Storage is also much easier in a post-frame construction because there are no load-bearing interior walls required. Instead, you are given a wide-open space where you can conveniently park multiple cars, store your lawn equipment, and keep your Christmas tree safe until the next season. The benefits of having this open floor space are almost endless.
If you want to know the cost per square foot of building a garage this way, you might be pleasantly surprised. A modest pole building should cost you somewhere between $10 and $30 per square foot in materials. If you choose not to put up the garage yourself, labor may increase your overall cost.
Stick-Built Garage Kit
Some people do not like the idea of a pole building and prefer the more traditional stick-built approach. While it will be more expensive than a pole building, you can actually purchase kits that contain all of the materials necessary for a stick-built garage for a reasonable fee. However, you might find that a kit is not necessarily the direction that you want to go to.
For many people, they have an idea in their mind of what their garage should look like and how it should function. They may even want to install a room over top of the garage where they can work or have guests stay over. These types of requests can be difficult to accommodate with the bare-bones package you get when building a pole garage or opting for a stick-built kit.
The primary benefit to a stick-built garage is the degree of customization. Each building can be totally unique and can align with your overall vision for the space. Instead of being confined to what a pole garage or kit can offer, you have infinitely more flexibility. Your contractor can tackle any problem that you encounter and come up with a solution that will make you happy.
Unfortunately, you will find that the cost to build a garage the traditional way is significantly more than it is to build a pole garage. The average cost to build a garage comes to $49 per square foot. The average cost to build a single car garage ranges from $7,500 to $14,200, a serious investment compared to what a pole building could cost.
Building Your Dream Garage
When it comes down to it, you really do need to consider how much you are willing to spend to have the garage of your dreams. Some people can be easily satisfied with the storage space that a pole garage can offer, while others feel that they require the customization of a stick-built garage. No matter what you choose to do, make sure to do your homework on the cheapest way to build a garage in your area first!

Latest posts by Thomas Luttrell
(see all)