You have a major mess on your hands. What do you reach for to clean it up? Many people love the convenience of using Clorox wipes, but they wonder what they can expect from the Clorox wipes ingredients. Are they safe for use around the home?
If you have been wondering what is in this product and how to interpret it, let's take a closer look.
What is the EWG?
Before we dive into the Clorox Wipes active ingredient list, it is important to know how these products are ranked. One of the ways you can easily determine whether a product is safe for use is through websites like the Environmental Working Group or EWG. Their goal is to help people to live healthier lives in a healthier environment.
This group takes many of the popular products on the market and assigns them a letter grade of A through F based on how safe they are for humans and their environment. They even break it down into the individual components of each product.
If you ever need to know the list of active ingredients in a product or how healthy it is, this is a great place to start.
Clorox Disinfecting Wipes Ingredients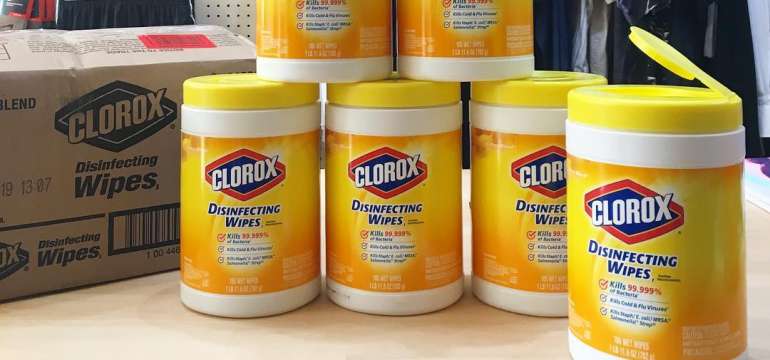 When it comes to the key ingredients in Clorox wipes, you might not be able to recognize many of the leading ingredients. They are not as simple as you might think. In fact, most people will struggle to even pronounce the three primary ingredients in a bottle of these disinfecting wipes. The three main Clorox wipes active ingredients are:
☆ Alkyl dimethyl benzyl ammonium chloride
☆ Alkyl dimethyl ethylbenzyl ammonium chloride (C12-14)
☆ Alkyl dimethyl ethylbenzyl ammonium chlorides (C12-18)
All of the ingredients are given a D by the Environmental Working Group. They pose some serious side effects with extended usage. These can include respiratory effects, some endocrine disruption or reproductive effects, developmental issues, and more.
In addition to these hard-to-pronounce chemicals, there are other ingredients at work. They also contain disodium EDTA (a type of salt), artificial fragrances, and a preservative.
According to the Department of Health and Human Services database, there are three major side effects that can officially come from prolonged use of Clorox wipes.
You may experience eye irritation if the product comes in contact with the eyes. If this is the case, flush the eye with water vigorously for fifteen minutes.
Your skin may also become slightly irritated with the usage of these wipes.
Last but not least, you do have some cause for concern if you were to ingest these wipes. While this is probably unlikely, the good news is that they are practically non-toxic just in case.
Is There Alcohol in Clorox Wipes?
Many people are curious about the actual ingredients list found for a tub of Clorox disinfecting wipes. One of the main questions people pose is whether there is actually alcohol in these cleaners. Finding the list of active ingredients in these cleaners can be tough, so what can you really expect?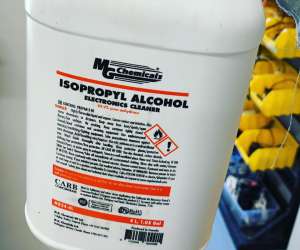 Yes, there is a form of alcohol in these wipes. Isopropyl alcohol is a known ingredient that helps to disinfect surfaces when cleaning. While it may sound bad to have alcohol as an active ingredient, it really is not too terrible for your health. The Environmental Working Group rates isopropyl alcohol as a B and states that there is just some concern for potential respiratory effects.
As long as you not consciously inhaling these fumes for long periods of time, this is not likely to affect you.
Clorox Anywhere Wipes Ingredients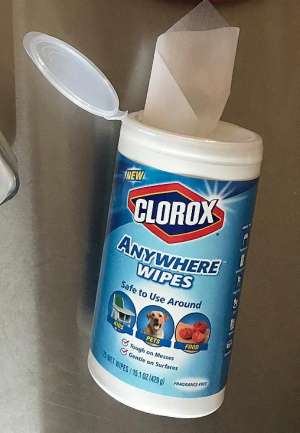 Many people are rightfully concerned about the harsh ingredients that are found in many convenient disinfecting wipes. They worry about the more vulnerable population like kids and pets.
Perhaps they need something that they can quickly use to sanitize the counters in their kitchen or to wipe down a used cutting board. This is why many people choose to use the Clorox Anywhere wipes.
This container of wipes contains no bleach, making it a bit safer to use than the standard disinfecting wipes. It is safe for use around kids, pets, and food.
Unfortunately, these wipes still do not receive a stellar rating from green-friendly companies and working groups like the EWG. Based on the spray version of this cleaner, two of the primary ingredients, sodium hypochlorite, and hydrochloric acid, pose some concerns for your overall health.
These two ingredients are rated at a D and C, respectively. A few of the potential side effects can include respiratory discomfort, damage to vision, skin irritation, endocrine disruption, and even cancer. However, they do score one letter grade higher than the more general Clorox disinfecting wipes. There is a low concern for the environment with this bleach-free alternative.
Purchasing Clorox Disinfecting Wipes
The Clorox wipes ingredients can be highly effective at cleaning your home, but they do contain a fair number of chemicals. If you are looking for a green solution for your home, you may want to turn to something different. However, these are a household staple for many people. It pays to be educated about what you are using in your home!

Latest posts by Josh Hurd
(see all)