Homeowners looking for a high-quality garbage disposal will be satisfied with the Badger 5. Its powerful motor makes grinding up food fast and easy and there aren't any wearable parts used in the construction of this device. This means it'll consistently work well for years to come.
Every unit is backed up by a 2-year In-Home Full Service Limited Warranty. Not only will you get your device replaced if anything should happen to it, but a skilled technician will also come to you for your convenience. This is what I call getting your money worth.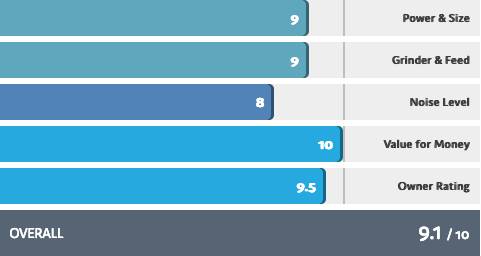 A 1/2 Horsepower Dura-Drive Induction Motor
There's nothing worse than a weak, slow-performing garbage disposal, and when you invest in the Badger 5, that's not something you'll have to worry about. This garbage disposal is equipped with a 1/2 Horsepower Dura-Drive Induction Motor that runs at a total speed of 1725 rpms. This will make grinding up food a hassle-free experience.
In addition to this, the motor in this unit is also built with a GrindShear ring. This ring ensures that even the toughest scraps are ground up with ease. Garbage disposals that fail to properly grind up food can become infested with germs and release unpleasant odors. Help keep your kitchen clean with the Badger 5.
Galvanized Steel Construction
The Badger 5 is constructed from high-quality galvanized steel for superior durability. Not only will this garbage disposal withstand years of regular use, it's also resistant to chemical damage, corrosion, and heat change too. Now, that's tough.
Having to repair or replace your home's garbage disposal every few years is not only a hassle, it also can become quite expensive as well. That's why investing in a quality product like this model here is a wise decision. If by any chance your unit should happen to break down on you within the first two years, you'll receive a full replacement. No questions asked.
Quick Lock® Sink Mount
Once you purchase this garbage disposal, you'll have the job of mounting and installing it. Now, if you're anything like me, this can seem quite overwhelming. I definitely do not have the skills of a handyman. However, with the Quick Lock® Sink Mount feature, installing your new device will be a fairly relaxed job. You simply attach and twist your new unit into place. It's that easy.
To ensure you get the device installed correctly, there's also a step-by-step manual included in each package. This manual will guide you through the process and prevent you from having to call a professional to install it for you. By eliminating the need for outside help, you'll also save yourself quite a lot of money.
Features and Specifications
Besides the 1/2 horsepower Dura-Drive Induction Motor, the solid galvanized steel construction, and the Quick Lock® Sink Mount, there's also several other features that make the Badger 5 Garbage Disposal a worthy investment.
✓ 26 oz. Grind Chamber: This grind chamber will provide you with the space to properly grind up your food. However, it's important to note that the Badger 5 is best suited for a smaller sized family. If you have a fairly big household, you may want to choose a garbage disposal with larger grind chamber.
✓ Dishwasher Inlet Connection: This easy-to-use connection allows you to easily connect your garbage disposal to your dishwasher. Why is this beneficial? By connecting these two units, you'll make your life easier while also keeping your kitchen much a much cleaner area of your home.
✓ Compact Design: If you're a homeowner concerned about space, then the Badger 5 is a great choice for you. This unit is small, compact, and can fit in areas with limited room. In fact, this garbage disposal measures out to a total size of 6 5/16" by 12 5/8". Now, that's compact.
✓ Grinding: Most of the customers that have reviewed the Badger stated that this is a fairly quiet garbage disposal. Although there's quieter models on the market with a higher price tag, the noise level for this unit is definitely far from loud.
✓ 2-year In-Home Full Service Limited Warranty: This is a benefit that needs to be mentioned more than at least once. If your device should happen top break down on you, a skilled technician will come to your house and repair or replace the device. All parts and labor are provided to you at no additional cost.
✓ Jam-Buster Wrench: Every order comes with a jam-buster wrench. If your garbage disposal should ever happen to become jammed, simply use this wrench to release the jam. This wrench easy to grip and made out of quality material.
Customers Thoughts About the Badger 5
So, how do past customers feel about the Badger 5 Garbage disposal? This product was reviewed by 4,322 people and received an average of 4.6 out 5 stars. That's pretty good if you ask me.
The two most likable features reported included the power of the motor and the 2-year warranty. Other things customers reported liking also included the easy installation process and the compact design of the device.
Now, there were some complaints as well. One thing this garbage disposal doesn't come with is a power cord. I personally find this to be a little bit troubling, but for the reasonable price, it's still a bargain in my opinion.
Another complain that a few customers had was the development of cracks along the outer body of the garbage disposal. Out of all the reviews that I read, I only found two customers who had this problem. This is a rare circumstance that can be easily fixed by taking advantage of the 2-year warranty.
Pros
✓ Reasonable priced
✓ Installation is easy and takes minimal skill
✓ The #1 selling product in the InSinkErator badger series
✓ Works well for regular sized septic tanks
✓ Comes with a Jam-Buster Wrench
Cons
✘ No power cable included
✘ Although this unit is quieter than some models, it's still somewhat noisy.
✘ A very few customers had their unit crack and start leaking after regular use.
My Conclusion on the Badger 5 Garbage Disposal
If you're trying to decide on whether or not you should invest in the Badger 5, let me offer a little advice. This is a fantastic garbage disposal for your money. The motor is powerful, the unit itself is constructed from galvanized steel, and the GrindShear ring ensure that your food scraps will be chopped and disposed of in an efficient manner. This is definitely a wise investment.

Latest posts by Josh Hurd
(see all)