The Insinkerator Evolution Septic Assist is a well-built garbage disposal that not only features a two-stage grinding system, it also comes with a septic bio-charge cartridge. In addition to this, the Insinkerator is built with a 40-oz. stainless steel grind chamber and runs on a 3/4 Horsepower Dura-Drive Induction Motor. It's tough, durable, and yet is one of the quietest models on the market. The best part? When you purchase this unit, it'll come with a 4-year in-home limited warranty.
As great as this garbage disposal is, it does come with a higher price tag, and there is an extra charge for a power cord. Although these are honest concerns, it definitely shouldn't prevent you from investing in this product. When you install the Insinkerator Evolution Septic Assist in your home, you'll have a garbage disposal that will continue to work fantastic for several years to come.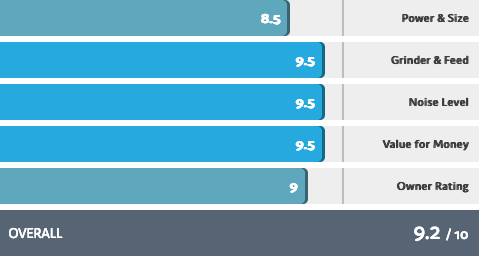 Features and Specifications
SoundSeal® Technology: SoundSeal® Technology blocks out the sound, so you'll be able conversate in the kitchen without any disruptions.
MultiGrind® Technology: MultiGrind® Technology allows you to grind up even the toughest scraps with it's two stages of grinding.
3/4 Horsepower Dura-Drive® Induction Motor: The motor in this garbage disposal is quiet, extremely tough, and built to last. You won't be disappointed.
Bio-Charge® Injection Technology: This technology uses a natural microorganism to aid in the break down of food scraps. It's also safe to for the environment and is non-toxic.
40 oz. Stainless Steel Grind Chamber: The stainless-steel design prevents rusting after years of use and is 40 oz. in size for maximum efficiency.
Noise Level: SoundSeal technology
There's nothing worse than trying to hold a conversation over the sound of a loud garbage disposal. With the Evolution Septic Assist, this won't be a problem. It's exceptionally quiet and delivers a distraction-free experience. So, how did InSinkErator do it?
The reason why this garbage disposal is so quiet is due to the patented SoundSeal technology. This technology is designed to block noise from three specific areas of the unit. They include the noise from the motor, the noise from the mouth of the disposal, and the vibrations that occur when the unit is running. This is truly one quiet device.
Grind Technology: Two-Stage Grinding
If you're unclear as to what a two-stage grinding system is, it's basically a more efficient way to grind up your food waste. In other words, this two-stage system will grind your scraps into even smaller pieces than a single-grind system can. This means less strain on the motor and less chance of a jam. In addition to this, you'll also grind up your food waste much faster as well.
Chopping up your food waste into smaller parts is important. Why might you ask? All the food waste that you chop up will go directly into your septic tank. If your waste doesn't get chopped up properly, it could potentially cause a blockage and lead to other problems like seepage and contamination.
A Strong Warranty
The Insinkerator Evolution Septic Assist is protected by a 4-year in-home limited warranty. This means that if anything should happen to your garbage disposal with regular use, you'll not only get your unit repaired or replaced at no additional expense to you, a company technician will also come to your home for your convenience.
Investing in a garbage disposal with a warranty is a smart decision. Warranties help prevent financial hardships and troubling experiences. Now although there are several brands on the market that guarantee their products for a longer period of time, the in-home service is what truly makes this warranty beneficial. It's will eliminate the hassle of having to locate and hire a repair man in addition to paying him big bucks to get your disposal up and running.
The Dimensions
If you're looking for more of a compact garbage disposal, then the Insinkerator Evolution Septic Assist might be a little bigger than what you're wanting. The dimensions are 14" x 11" x 16" with a weight of 22.4lbs. Although this disposal is not absolutely gigantic, it's still a little large for people with limited space. However, if you don't mind the size, then this garbage disposal is fantastic for any sized household.
Easy Installation
If you're anything like me, the thought of installing a garbage disposal seems like quite a challenge. Luckily, the Insinkerator Evolution Septic Assist is quite simple to install due to the stainless steel Quick Lock sink mount. You simply remove your old disposal, attach the stainless steel Quick Lock sink mount, and twist on your new disposal. It's that easy.
The Quick Lock sink mount not only makes your life easier, it'll also hold your garbage disposal tightly in place. This will in return eliminate all those noisy vibrations while also preventing the unit from breaking loose while in use.
Customer Thoughts
I truly believe that the Insinkerator Evolution Septic Assist is definitely worth your money, and I'm not the only one. In fact, most people who reviewed this product gave it 5 stars. Out of all the positive reviews posted, customers enjoyed the quietness and the power of the motor the most. Other customers stated they liked the easy installation and the 4-year in-home full service limited warranty.
Although there were several positive reviews, there were also a few negative ones as well. Some of the people who purchased this product received a garbage disposal with an electrical short embedded within the device. Other customers complained about cracks and leaks forming after regular use. It's important to note that these complaints were rare in comparison to the positive issues, and if you do experience these problems, the 4-year in-home full service limited warranty will take care of everything.
Pros
✓ With the Sound Seal technology, almost no sound produced
✓ Eco-Friendly technology
✓ 40 oz. Grind Chamber
✓ Designed for work with septic tanks
✓ Quick Lock Sink Mount
Cons
No power cable included
Larger in size comparing to the standard garbage disposal
A very few customers experienced leaks and cracks after regular use
For a few customers, the bio cartridge didn't stay in place
My Conclusion
Customers interested in a garbage disposal worth every penny will want to consider investing in the Insinkerator Evolution Septic Assist. It's powerful, quiet, and protected by a 4-Year in-home limited warranty. I do find the extra charge for the power cord to be a little bit annoying, but it's definitely not a big enough issue to keep me from buying it. The Insinkerator Evolution Septic Assist is one fantastic product.

Latest posts by Josh Hurd
(see all)