One of the biggest expenses related to the finishing or refurbishing of the rooms in your home is the flooring. Because of the cost and time investment involved with the flooring, it is so important to make the right choices along the way, from the type of flooring (wood, carpet, linoleum, tile, etc.), to the kind of hardwood, to the style of finish you choose to have.
What if you are struggling to decide between matte and satin finish, and you're just not sure which one to choose, either stylistically or practically? You've come to the right place, because in this guide we'll talk about the difference between matte and satin finishes, along with some benefits and disadvantages of each.
Types of Wood Flooring Finish
Although our focus is going to be matte vs. satin finish hardwood floors, we want to take a moment for a nod to the other styles of finish. In the range of finishes, glossy finish is the most shiny finish. Then comes semi-gloss, which is a step down from the ultra-shiny sheen of gloss floors. The satin finish comes next, with a kind of glow about it, but not that light-reflective high-gloss look. And then at the very opposite end of the spectrum from the gloss finish is the matte finish, which is fairly flat and non-reflective as finishes go.
Glossy floors were the way to go at one point. Most designers and homeowners liked them because of their sleek, reflective look. Wood floors done in gloss finish had a mirror-like quality that was rather regal and high-end in its effect. However, there were a couple of major drawbacks to glossy hardwood floors that have since made them somewhat less desirable to homeowners.
Gloss and semi-gloss finishes, while they have a stunning aesthetic when they are pristinely clean and in perfect condition, tend to show the tiniest specks of dirt and dust. Even a slight amount of dirt on a high-gloss or semi-gloss floor is very visible and can mar the overall effect.
In addition, gloss and semi-gloss floors tend to show dings, scratches and scrapes very dramatically as well. This is especially true if the wood itself or the stain used on it is dark. The combination of a dark, glossy hardwood floor can be beautiful and dramatic; but these floors are a pain to keep clean and pristine.
You have to constantly sweep and wax them to maintain the shine, and you have to be extremely careful about anything that could scratch them. If you have pets or children, or if you dislike having to be very careful of your floors and polish them constantly, the gloss or semi-gloss options may not be ideal for you. Also, if you like going barefoot around the house, you are not going to want a high gloss finish, since gloss and semi-gloss finishes tend to show bare footprints very noticeably.
Satin Finish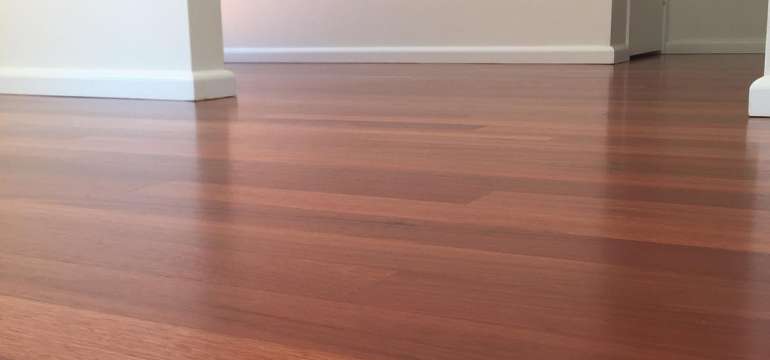 For a while now, the satin finish has held its place in homeowners' hearts as the perfect halfway point between glossy and matte. It doesn't have a sharp gloss, but it does offer a kind of soft sheen, almost a faint glow. It reflects some light, but not too much. As a result, it is a better surface for bare feet, pets, children, and guests.
The satin finish conceals or minimizes the look of some dust, dirt, scratches, and abrasions. They may still be noticeable in a certain light, or at certain angles, but their presence will be less dramatically obvious than if it were a gloss or semi-gloss floor. Should you happen to drag a roller suitcase across the floor, scrape a chair over it, or stalk across it with stiletto heels, the floor will be more forgiving than a glossier surface would be.
Satin flooring is definitely a popular hybrid option and one that pairs well with almost any style of decor, from farmhouse chic to upscale elegance. It's a decor choice that most people who enter your home will appreciate unconsciously without thinking twice about it.
Matte Finish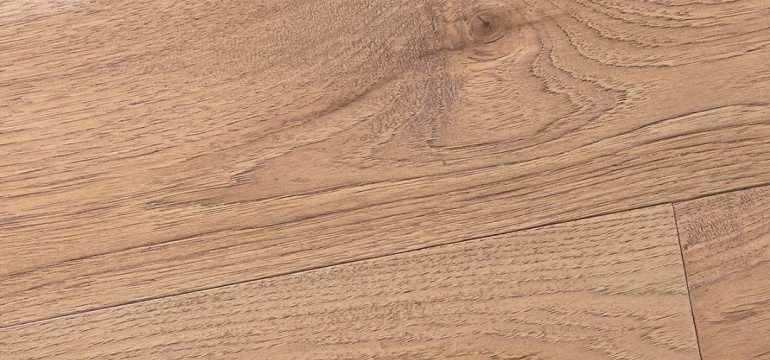 Now let's talk about the matte finish. This type of flooring finish has not traditionally been in vogue, but lately, it is experiencing a resurgence in popularity. This is in part due to the market appreciation for rustic or distressed elements within the home's interior design. Matte-finished wood yields a much more organic vibe to the space, so for homes that want a farmhouse chic vibe, a cottage atmosphere, or a modern, clean aesthetic, the matte flooring can sometimes be exactly the thing.
The matte quality of this type of flooring offers a level of homegrown realness that appeals to contemporary homeowners. The floors are not rough; they may not have gloss or shine, but they are smooth, so they are easy to sweep and clean. At the same time, their lack of reflectivity means that they are far more forgiving to scuffs, scratches, dirt, and dust. So families with children or people with pets often prefer them, since the pressure to keep the floors pristine is much lower.
Despite its practical benefits, some people are still uncertain about matte flooring. They feel that the look of the matte flooring is just too dull. And it's true, the flat, unreflective aesthetic of the floor may take a little getting used to. But if you incorporate the right design elements throughout the room, embracing the more organic, rustic look or farmhouse feel, you will probably find yourself enjoying the lack of shine before you know it!
Bringing in distressed furniture, organic accessories, and some genuine or artificial greenery can really pull the room together and celebrate the natural, real vibe you have introduced to your home through your choice of matte wood flooring.
Matte or Satin Finish: The Luster Factor
Let's get technical for a second. The shine of a hardwood floor's finish is known as its luster. The luster is a measure of how much light is reflected back from the floor's surface when a light source shines on it. So when you are talking about matte vs. satin finish hardwood floors, you have a way to precisely compare the difference in light reflection that we are talking about.
Satin finish hardwood flooring typically has around 40 percent luster. By contrast, matte wood finish flooring has 25 percent luster. When it comes to design aesthetic and the overall look of a room, this difference is actually quite significant. Some home designers and interior decorators claim that when offered a choice and samples of both options, around 80 to 90 percent of homeowners end up choosing a satin finish for their floors.
If you are curious, you might be interested to know that semi-gloss hardwood floors have a luster of around 55 percent. Glossy finish offers a 70 percent luster factor. Though the use of glossy flooring has decreased in private homes due to the maintenance demands that we have previously mentioned, you will still see glossy finish flooring in bowling alleys and gyms. These floors do require daily cleaning and usually need to be sanded, refinished, and waxed much more often than other types of wood flooring finishes.
Switching Finish
What if you select a specific type of finish for your hardwood floors and then later decide that you don't like it at all? Well, fortunately, there is a way to reverse your decision. Sure, it will take time and money, but at least there is no need to completely replace the floors. You will need to do a screen and recoat instead.
Basically, you would scuff up or abrade the floor's surface with a buffer and redo it with a coat of polyurethane. You are technically not sanding the wood. You are just sanding the topcoat of protective poly and then redoing that topcoat with an adjusted finish. By this method, you can tone down the gloss of your floors or amp it up as needed. Just remember that this process doesn't go as deep as a full sanding and refinishing process, so it won't help with color changes or serious scratches that go down into the wood.
Wood Floor Finishes: Satin vs. Matte Overview
Here's the rundown: basically, you can't go wrong with either satin or matte finish for your wood floors. If you want a sleek, elegant look with a bit more sheen, go with a satin finish. This looks especially good if you are choosing darker wood. However, if you are into the cottage feel or a more rustic farmhouse vibe, or if the log cabin look is totally your style, you may want to give matte floors a try.
With either matte or satin finish, you can count on the floors being fairly forgiving to normal everyday life. However, every kind of wood floor has its limits, so be aware of which behaviors, chemicals, or incidents could cause permanent cosmetic harm to the floors in your home, and try to limit the floor's exposure to such risk factors.
If you are still in doubt about which type of flooring would look best in your home, it may be time to call in a consultant. Home designers and interior decorators have experience with bringing together their clients' practical needs with their aesthetic wishes. When you hire an expert in interior design, you'll have someone there to give you that professional eye and advice you need to make the right choice. Once your floors are installed, you can enjoy the beautiful surfaces throughout your home—surfaces that will hopefully last through many years to come.

Latest posts by Thomas Luttrell
(see all)