Reducing hot water use saves energy because your hot water heater has less work to do. Recent research has shown that on average about 73% of the water used in a typical shower is hot water (DeOreo, et. al. 2001).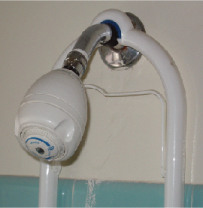 Photo source: Aquacraft, Inc.

Installing a new showerhead is a good idea and can result in some energy savings, particularly if you live in an older house and have what appears to be an older showerhead. Showerheads are inexpensive (starting at less than $5) and can be a good way to save money in your home.
If you are looking for further energy savings in the shower, consider taking shorter showers. If your showerhead uses 2.5 gpm, then you can save about 1.8 gallons of hot water for every minute you reduce your showering.
Benefits and Costs
A showerhead is a relatively inexpensive item. Basic showerheads cost less than $5 and prices go up depending on the features you desire. A good quality massaging showerhead will cost $20 – $35. All showerheads manufactured in the U.S. must use 2.5 gallons per minute (gpm) or less.
The water, wastewater, and energy saving benefits you get from installing a new showerhead is primarily determined by your current showerhead. If you have a high flow showerhead – say 5 gpm or more – you will probably pay for your new showerhead out of water, wastewater and energy savings in one year or less. However, research has shown that these high flow showerheads are not that common anymore.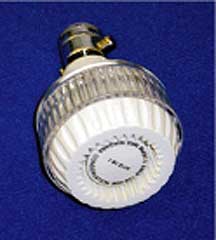 A showerhead from Niagara Conservation.
Photo source: City of Roanoke, VA

If you are looking for inexpensive ways to save water, a showerhead isn't a bad bet and you may save a little on your energy bill as well. But don't expect the same level of water savings that you might achieve from replacing an old inefficient toilet.



He began his career in plumbing at the age of 14 while still in high school. Kevin Sharp has a bachelor's degree in journalism from Illinois State University.

Latest posts by Kevin L. Sharp (see all)
Last modified: September 12, 2017