Unlike toilets, showerheads have not been the center of great interest and controversy in recent years. New showerhead products are regularly brought to market and they all meet the federal standard that limits flow to 2.5 gallons per minute. Showerheads can produce spray in a variety of patterns and pulses and consumers are free to choose the model that suits them best.
A fairly recent trend in bathroom design could impact shower water usage however. An oversized shower stall with two (or more) showerheads is becoming a popular item in upscale bathrooms across the country. Some of these showers are designed to facilitate showering with a friend or loved one; others are simply luxury items to pamper wealthy folks. Some of these showers actually have separate controls for each showerhead so that if only one person is showering only one showerhead is used. However, the potential does exist for people to use two, three, or even four times as much water for showering.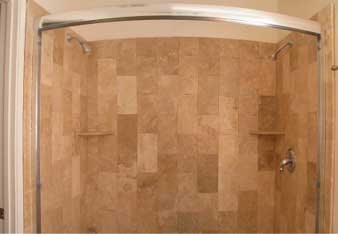 Photo source: Aquacraft, Inc

It is difficult to envision this trend dramatically impacting residential water use rates. Human biology and learned behavior governs showering frequency and that isn't likely to change. These luxury showers are similar to giant Jacuzzi tubs or bidets and do result in additional water use for people who can afford to pay the bill.



He began his career in plumbing at the age of 14 while still in high school. Kevin Sharp has a bachelor's degree in journalism from Illinois State University.

Latest posts by Kevin L. Sharp (see all)
Last modified: September 12, 2017