Have you admired those big, beautiful wooden tables you see in your friends' homes? Maybe you have the itch to own a custom table yourself. The good news is, making your own table is not a difficult woodworking project. You can accomplish it with a moderate time investment and some basic tools.
However, one of the most important elements of a custom wood table, and the key to its success or failure, is the wood you choose to form the top of the table. You want something beautiful since this table is going to be a show-stopping piece in your home. But you also want something incredibly durable that can handle the constant, daily wear and tear that a dining table or kitchen table will have to endure.
In this guide, we will talk about the best wood for table tops and give you some tips for selecting and preparing it.
Important Factors When Choosing the Best Wood to Make a Table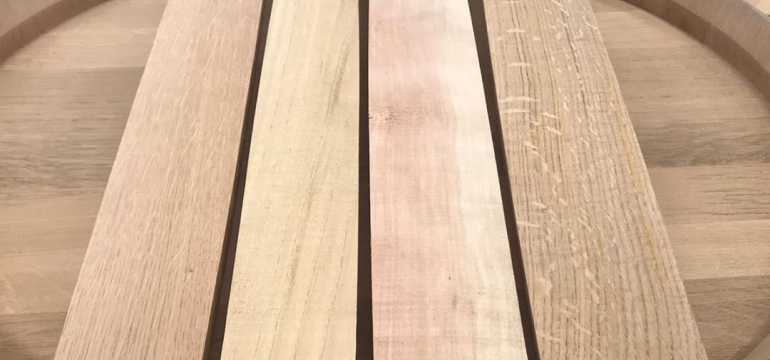 First of all, let's review some factors that make wood ideal for furniture, specifically for furniture that endures heavy use, like dining room tables. For the purpose of this guide, we will be focusing mainly on the farmhouse style of table, a heavy, practical, and beautiful piece of furniture that sets the stage for countless family gatherings and dinners with friends.
Wood Grain
Wood grain is the way the wood fibers show after the wood is cut. Some wood has a beautiful grain, fairly straight and defined. Other woods have a crooked or gnarled grain with lots of uneven fibers and knots. Smaller pores of the wood make it a closed-grain type, while larger pores classify it as open grain.
Another way to think of wood grain is "visual texture." Since you are looking for the best wood for a dining table, you will probably be looking at the wood surface every day, and it is important to choose a type of lumber whose grain or visual texture is appealing to you.
Durability and Hardness
The hardness of wood is measured using something called the Janka scale. The higher a type of wood ranks on the Janka scale, the harder it is. And the harder the wood is, the more durable it can be expected to be, and the better it should hold up under the regular rigors of everyday life and use.
Cost
If you haven't already noted this, it is important to realize that the wood you will need is solid lumber, not particle board like you would find in mass-produced flat-pack furniture. So you will have to plan ahead a bit and count on a much higher cost for the slab of wood you will use.
Different types of wood have different pricing, usually dependent on a couple of factors. The hardness and durability of the wood make it more expensive, and if that higher-quality pairs with beauty as well, the cost will be even higher. You will have to determine your budget and select a type of wood that combines the durability you need with the eye appeal you want for this statement piece in your home.
Oak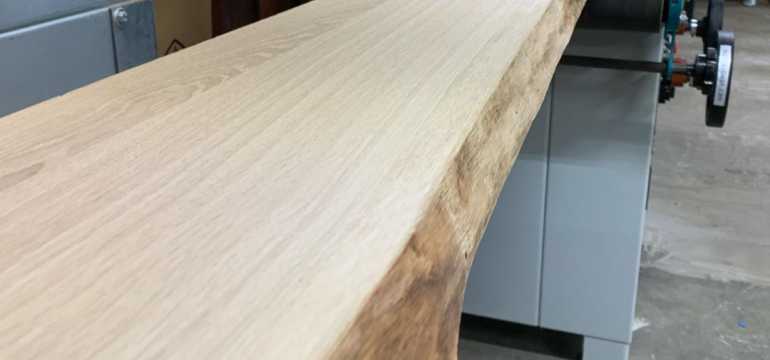 Oak is popular for its heavy, durable nature. It is rated a decent 1200-1300 on the Janka scale, with various species of oak falling in different places on that spectrum of hardness. However, oak does tend to stain whenever water comes into contact with it, so you will need a very good sealer and finish if you want it to serve well as a table top.
Red oak, in particular, is a favorite with furniture builders. It has a warm reddish-orange color that tends to add a homey ambiance to the room. Its open grain accepts stain well. Overall, it is perfect for anyone who is looking for a more traditional farmhouse style table. Red oak specifically carries a rating of 1290 on the Janka scale of hardness.
Maple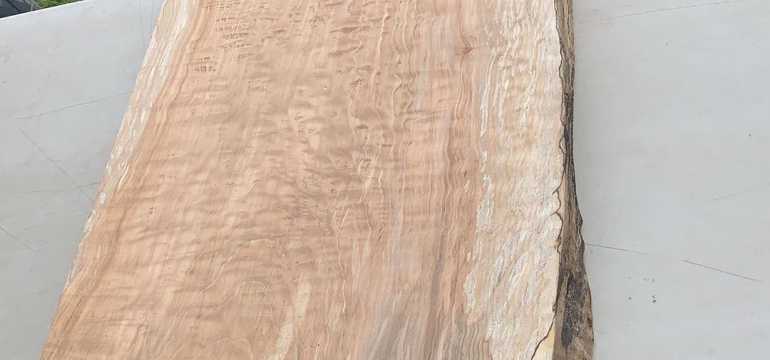 When you are looking for the best wood for a table top, one of the names you are going to encounter is maple. Maple is well-known as a beautiful wood with a unique and stunning grain. It has a strong Janka rating of 1400-1500, depending on the species of maple you are considering.
Like many kinds of wood, it can be susceptible to insects, but if you use the right stain and sealer, that shouldn't be a problem. You may also need to use a pre-stain wood conditioner to avoid splotchiness when you apply the stain.
Brown maple is usually the species of choice for craftsmen making a table. Brown maple has a variegated grain that is wonderfully smooth, offering a sleeker style for people who might appreciate a slightly more contemporary look for their table.
The darker the stain, the more formal the table will appear. If you prefer something more country and rustic, go with a lighter stain or even some lightly distressed paint. A lighter stain will allow more of the maple's signature color variation to shine through. Maple is an excellent wood for transitional decor styles, and it can be redone or dressed in various ways to suit a homeowner's changing tastes.
Hard maple has a blonder grain than the brown maple. It's a more formal wood with a higher cost, and it is perfect if your intent is to create a surface for fine dinners, cocktail parties, and elegant entertaining. The light circular grain and delicate texture of hard maple work best with light stains.
Some people call this wood "rock maple" due to its extreme hardness, which is rated at 1450 on the Janka scale. However, this very hardness makes it difficult to work with if you don't have the right tools. If you choose this type of wood for your table top, consider having it cut and machined by a local hardware store if you do not have high-end tools and equipment to handle that part of the process on your own.
Pine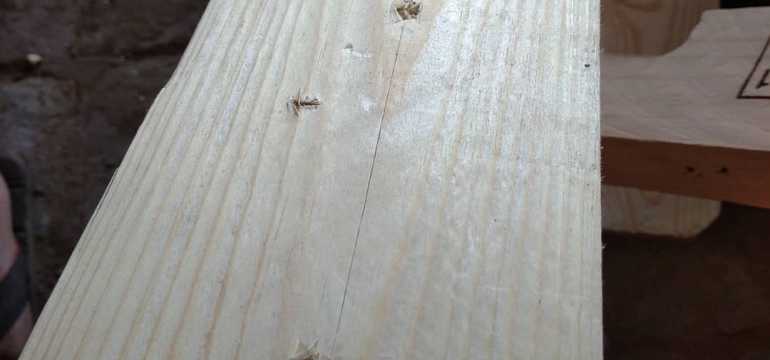 Pine has that rugged look that many people like in a rustic farmhouse-style table. It also has a rich color that looks gorgeous once it is finished. It accepts stain or paint very well, and is somewhat easy to work with. However, it is definitely not one of the hardest woods, since it has a Janka rating of only 300-400 depending on the species. It's a good choice if you want a low-cost, beautiful option, and you're not too concerned about scratches or dings.
Walnut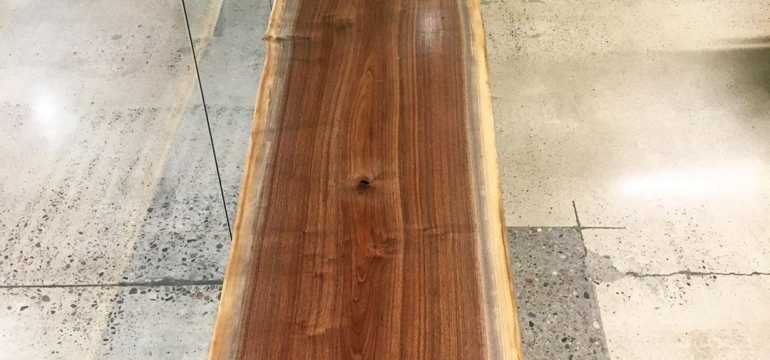 Here we have one of the peak choices, the best wood for a table top according to a number of expert woodworkers and craftspeople. Walnut is famed for its beauty, its strength, and its durability. It is very resistant to decay, and it is hard to damage through dings, scratches, or abrasions. It has a Janka rating of 1010, but the sheer beauty of its color and grain make up for whatever hardness it lacks in comparison to oak and maple.
The color is often described as chocolate brown, though sometimes the deeper brown hues can be mingled with very dark gray or purple. Some varieties may have golden-hued elements or streaks as well. The grain of walnut is very dynamic and visually fascinating.
Cherry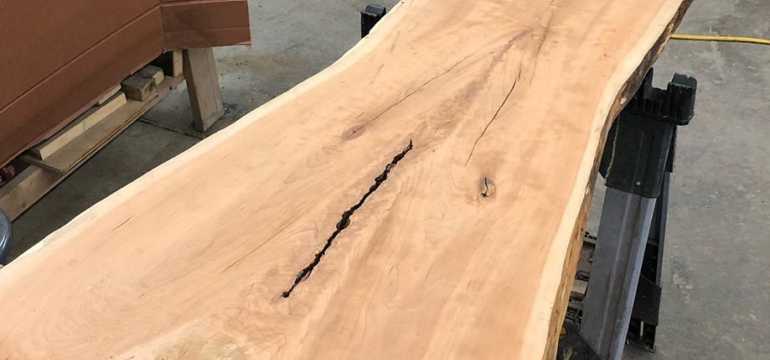 If you are looking for the best wood to make a table that is rustic yet up to date, why not try rustic cherry? Its variegated grain, punctuated with small pits and knots, is fascinating to the eye. It's a more casual kind of wood, usually featuring hues of dark red, brown, and white with some deeper flecks.
If you really want a more formal look, you could go with a standard cherry instead, which is darker, sleeker, and more uniform in texture. The cherry heartwood is lovely, featuring deeper reddish browns, while the sapwood tends to be creamier and paler. Cherry wood grows darker over time as it is exposed to heat and light, so keep this in mind. It's also important to realize that stains and finishes will intensify the natural reddish warmth of the wood.
Any kind of cherry wood will give you the potential for a smooth-as-satin finish. However, keep in mind that cherry, though a hardwood, is softer than some other potential choices. Cherry has a rating of 950 on the Janka scale.
Hickory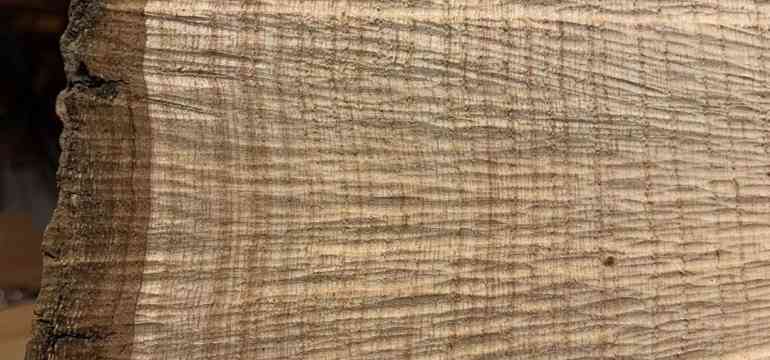 When you're shopping around for the best hardwood for a dining table that's rustic in appearance, you should also consider hickory. This unique wood features a striking, strong pattern of wood grain that's perfect for a cabin, a lodge, or a farmhouse. Brown and cream, with hints of red, are prominent hues in this wood's grain.
It's super dense and hard, with a rating of 1820 on the Janka Hardness Scale, so it can easily handle impact and wear without denting or developing scratches. However, at this level of strength and density, it is important to note that the wood becomes more vulnerable to humidity, which can cause it to crack; so if you decide to go with hickory, you will want to monitor the temperature and humidity levels of your indoor space.
If you're still unsure about the best wood for a table top, why not experiment with a few samples or scraps from each type of wood? Try out finishes, do some durability tests, and imagine how each type of wood would fit into your vision for your dining space.
Ultimately, you want wood that's going to strike a balance between durability and workability, between beauty and practicality, while fitting within your budget. Remember, you can always check in with friends and family to see which type of wood they used for their tables and what they would recommend.

Latest posts by Thomas Luttrell
(see all)