Both Glidden and Behr are two quality paints, but when faced with the choice of picking between the two, which is the better choice?
The real answer is that it depends on what you're planning on painting, how much you're wanting to spend, and the thickness of the paint you're interested in. The thickness will ultimately determine how many coats you will need to successfully cover a surface.
For those unfamiliar with Behr and Glidden, Behr has been Home Depot's personal brand since 1978. Their highest quality brand is their Marqee paint. Although it's a high quality paint, it's also quite expensive.
Glidden is not a Home Depot brand, but it is sold in their stores. Glidden is also sold in Wal-Mart and is a much more affordable paint for people who are trying to minimize their budget. So, which is the better purchase for you, Gidden or Behr? Let's find out.
Glidden vs. Behr: Price
There is definitely a difference between Glidden and Behr when it comes to price. Behr is quite a bit more expensive than Glidden. Behr runs around $15 for a quart and $34 for a gallon.
Their Marquee paint is a little more expensive than that. Glidden on the other hand is much cheaper. In fact, a gallon of Glidden runs anywhere from $14 to $18, depending on the kind. Their Diamond brand is their higher quality paint and is a little more than their other paints.
So, if price is the only thing you're worried about, then Glidden is obviously the better paint for you. However, if you're more interested in quality, then you'll probably want to continue reading about these two paints.
Glidden vs. Behr: Coats
The number of coats it takes a paint to fully cover a surface is important. Why? Having to add more coats means more work, more time spent on a specific job, and if you own your own painting business, that can also mean extra money paid in wages. Most painting companies want to get their projects completed right and in a timely manner.
Between Glidden and Behr, Behr wins the contest. Covering a surface with Behr generally only takes one coat whereas with Glidden, it typically takes two or more. According to a few different reviews on YouTube, Glidden's darker colors like their blues tend to require more coats than their lighter colors like their whites and grays.
Behr vs. Glidden: Purpose
Although Behr appears to be the better choice, when it comes to painting a brick wall or a concrete surface, Glidden wins here. Glidden just works better on brick and concrete than Behr does.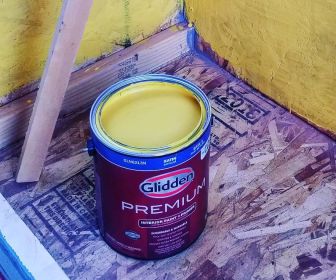 In fact, Glidden's Premium collection works the best. Their Premium Semi-Gloss Latex Exterior paint even works great on stucco and wood. The reason it works so well on surfaces like concrete and brick is because it's a breathable paint. This means moisture can easily work its way out. This in return will minimize the growth of mold and mildew.
Behr paint doesn't work as well on brick and concrete as Glidden, but it does work great on just about any other kind of surface including all external surfaces. This includes siding, wood, vinyl, trim, outdoor furniture, and all kind of doors.
All of Behr's paints are also resistant to both mildew and mold. Some of their paints even come with a primer mixed right in. Now, how convenient is that?
Behr's Marqee vs. Glidden's Diamond
Behr's Marqee and Glidden's Diamond are each of these companies more expensive paints. When these two are compared, who wins the contest? Mark's Painting, a YouTube channel, put both of these paints to the test. After they painted over a bright red and dark gray board, they let the paint dry and then exanimated the results.
Behr's Marqee had better coverage than Glidden's Diamond. They both spread easy and dried fairly fast, but the Marqee had the better coverage.
Glidden vs. Behr: Which is the better choice?
There are two reasons to choose Glidden paint over Behr paint. First, if you're planning on painting a brick or concrete wall. Second, if you're trying to save some money.
Besides those two situations, Behr is the better choice. When you use Behr, you won't have to use as many coats to fully cover the surface, Behr is a more versatile paint, and Behr provides their customers with a lifetime guarantee with every can of paint purchased. That's not to say that Glidden isn't a good paint, because it definitely is for the money. However, if you're looking for a higher quality paint, Behr is the better pick.

Latest posts by Mike Bailey
(see all)