Valspar and Behr are two of the most popular paints used by professionals today. They both have their pros, and they both have their cons. If you're trying to decide which of these two brands you should invest in for your next project, you'll want to compare and contrast the benefits of each of these paints and then choose the one that best suits your needs. So, Valspar or Behr paint, which is the best?
Behr Paint
Behr is company that sells all kinds of paint. Their products are sold at Home Depot and come at a fair price. The Premium Plus Ultra paint is their most popular product, but they offer a variety of other paints too.
Some of the benefits of using Behr paint is first, the paint has excellent coverage. For those than don't know what the term 'coverage' means, it's the amount of coats it takes to completely cover the surface you're painting. This is important, because a paint with bad coverage, one that requires multiple coats, can be time consuming and quite expensive as well. Behr paint can typically cover a surface with 1 to 2 coats.
Another benefit of Behr paint is that it sprays very smoothly through a paint sprayer. It sprays clean and there's usually no overspray or fallout. By using a paint that sprays so well, you can get a lot of work done in a short period of time. Easy spraying paint also looks better and will have a nicer finish once it dries. You won't have any blotchiness.
Lastly, Behr paint dries really fast and won't crack during the drying process. This helps get projects completed quickly and requires little touch-up later down the line. Behr paint is a premium product that uses quality fillers instead of generic ones. As a result, you get a more durable, long lasting paint.
Now, as far as the downsides to using Behr paint, some professional painters have said that this paint tends to be extremely runny when you brush or roll it onto a surface. However, the paint doesn't run when you spray it on. If you do roll or brush it on, you'll need to catch the runs with a brush as soon you see them running downward. For some people, this can be quite a hassle and require a second pair of hands.
In addition to this, Behr paint is hard to brush or roll it onto a surface. It takes a little effort. It's definitely not a smooth process. If you're going to use Behr paint, you'll really want to think about spraying it on rather than rolling or brushing it on.
Valspar Paint
Valspar Paint Company is sold exclusively at Lowes, has over 200 years of experience, and produces some of the best paint on the market. However, as with any brand, there are both benefits and downsides to any kind of paint. Let's start with the benefits. First, Valspar is made with the top-of-the-line ingredients which results in a longer lasting durable paint. Paint made with better ingredients will also look better once it's fully dried.
Second, there are several Valspar paints available that feature a paint and primer combination mixture. This mixture will not only save you money, it'll save you a lot of effort too. If you own your very own painting business, you can cut down on labor fees by using a Valspar paint and primer mixture.
Third, Valspar paints are very low maintenance. Once the surface that you painted is fully dried, you can clean and scrub it all you want without having to worry about damaging the dried paint. Stains, grime, and filth usually wipe right off with a damp cloth.
Lastly, Valspar Paint is much easier to use roll and brush onto a surface than Behr Paint. This is mainly because the paint is thinner. However, it's important to keep in mind that thinner paints can also have their complications.
As great as Valspar Paints are, there are some downsides too. First, like just mentioned, Valspar paint is very thin in texture. This can cause a number of issue. For instance, some professional painters complain that the paint simply dries too fast. When paint dries too fast, the brush strokes will show up on the surface after the paint has fully dried. This is not a good look for the interior part of your home.
Another downside professionals complain about when it comes to Valspar Paints is the amount of coats you have to use to cover a dark surface. This can be both time consuming and expensive too. Even with a light surface, you'll usually need more than one coat.
Behr vs Valspar Paint, which one should you choose?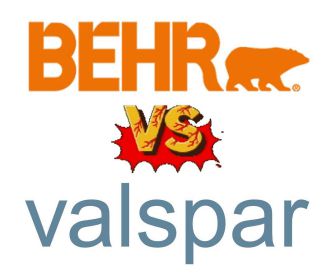 Now that you know some of the benefits and downsides to both Behr and Valspar Paint, it's time to choose. Behr Paints are thicker, require less coats to cover a surface, and are known to spray onto a surface like butter.
On the other hand, most Valspar Paints have primer mixed in. This will save you a lot of time and money. Valspar paints are also easier to roll and brush onto a surface but will require more coats. Both of these paints are a great choice, but you just have to choose the one that better suits your needs.

Latest posts by Mike Bailey
(see all)